Intel-level performance with a lightning fast quad-core processor
Thinner than the diameter of a penny at only .69 inches and weighing only 2.2 pounds with a full Chiclet keyboard
Long 12 hour* battery life with 14 day standby power
Dual band 802.11 a/b/g/b Wi-Fi for faster web browsing
500GB of ASUS Webstorage for 2 years and 64GB expandable through microSD
Quad-core Intel Atom processor with 2-sec Instant On functionality for superior performance and quick resume from standby mode
Slim design at only .69 inches thin and weighing only 2.2 pounds with a full Chiclet keyboard
Long 12 hour (web browing) battery life with 14 day standby power
Dual band 802.11 a/b/g/n Wi-Fi for faster web browsing
The new ASUS X205TA redefines expectations for a compact notebook with its slim, lightweight chassis and durable design that's perfect for either work or play.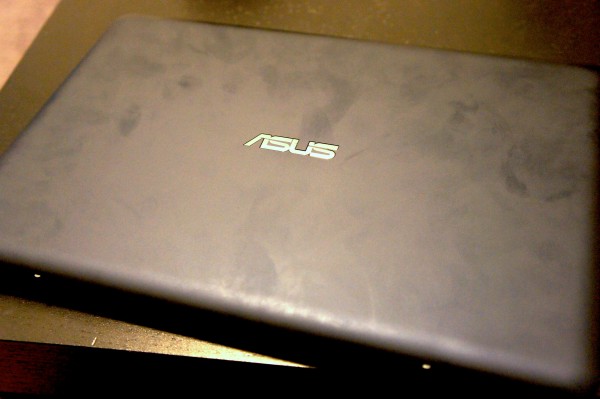 Superior Performance for Work and Play
The X205TA features an Intel Atom processor that's power optimized for great performance and energy efficiency, so enjoying the things you like to do has never been easier. Listen, watch, play, and be productive on the go.
Smartphone-like Accessibility
Connected standby technology brings smartphone-like responsive performance to notebooks with a 2-second resume even from prolonged standby. Data is also safe and secure with the X205TA which automatically backs up your data when battery level drops below 5%.
Ultimate Power that Lasts Longer
Thanks to the exclusive ASUS Super Hybrid Engine II power management system, the ASUS X205TA provides an amazing 12 hours of battery power (based on continuous web-browsing). Now you can do more without having to reach for the power cord.
More Options for Storage
The ASUS X205TA comes with 500GB of ASUS WebStorage free for two years so you'll have plenty of room for your files. Store your personal data – music, photos, and movies in the cloud and access it anytime you want. If you need an instant boost, the micro SD card slot lets you increase your storage by up to 64GB.
Designed for Ultra Mobility
When you need productive mobility on the go, look no further than the ASUS X205TA. Thinner than the diameter than a penny at only .69 inches and weighing less than 2.2 pounds with a full Chiclet keyboard, it redefines the mobile computing experience.
Asus is joining the sub-$200 Windows PC market with their new X205TA laptop.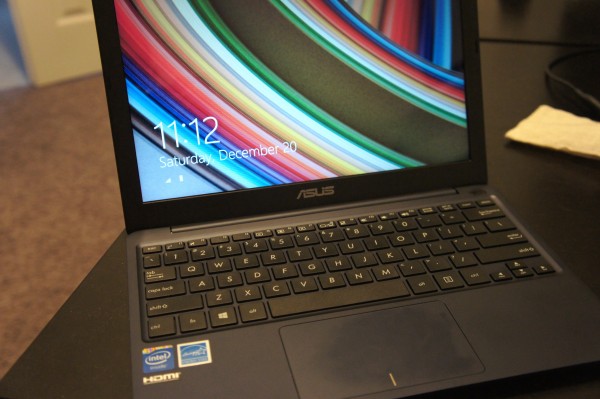 This one differs from similar priced offerings from HP and Acer in that it's powered by a quad core Intel Atom processor at 1.3ghz. The Acer and HP both have a faster Intel Celeron N2840 processor. But because the Atom processor uses less power, the Asus is able to put a smaller battery inside their PC that reduces weight and lasts longer than the competition. The result is a PC that can run for approximately 12 hours doing light tasks and weighs only 2.2 pounds.
The Octane javascript benchmark puts the Asus X205TA considerably slower than the HP Stream 11 and Acer E 11. It's also behind most Chromebooks. But it doesn't feel as slow as its benchmark scores indicate. I think that might be because its quad core processor can handle more browser rendering tasks than the N2840's dual core processor can.
The display is the nicest I've seen on one of these sub $200 Windows computers so far. It's crisp and clear and much nicer to look at.
There is a significant design issue with two metal protrusions on the back of the display. When the screen is opened and on a desk the metal can dig into wood, leaving scratches and dents on the desk surface.
Like its competitors it doesn't have much available storage. After the windows installation and recovery partition there's only about 15-17 gigabytes of free space available. This can be supplemented by installing a microSD card to add additional storage. The card sits flush to the case when installed.
I think the HP Stream 11 still remains the best value among the sub $200 Windows PCs, primarily because it's faster and comes with a full year of an Office 365 subscription.
But if portability and weight are a factor the X205TA wins out.
Almost perfect for the price, but close enough!
By Sean on November 14, 2014
I ordered this laptop the day after it was released. As time would have it, I was looking for something light weight to use for school that could run office and didn't cost $300-$400. This fit the bill nicely. Time to jump right into the review, docking stars will be tough since I got this laptop for $100 at staples.
The Screen: Great quality, plenty bright enough at the highest setting to view in the sunlight, or dark enough that it won't blind you in a dark room.
The Keyboard: Awesome. I was worried about getting a smaller laptop that would have a cramped keyboard. I have large hands and typing on certain laptops I make tons of errors and end up bumping the touchpad. I have no issues with this.
My only complaint on the keyboard is there is only one tiny light for the caps lock, and it is located next to the battery and charge lights (on the front). You really don't see this when you are typing. A tiny light in the empty space at the top of the keyboard would have been an ideal place for this (like most keyboards). Windows 8 does not have any sort of screen prompts to let you know if caps is on or off that I am aware of.
The Touchpad: Some say its finicky, I haven't had any issues with it. The Asus Smart Gesture works fine, I disabled the pinch to zoom though as I sometimes do that accidentally.
Tiny complaint: Having the clicker integrated into the touch pad makes it difficult to find in the dark sometimes, I sort of wish it were raised up a little, or the divider between the left and right mouse button was something you could feel (like the home keys have).
The Storage: This is where the laptop hurts. From the factory, you have 17.1GB of free space, not bad right? Well once you install all the updates for Windows, you are left with about 12-13gb. The recovery partition has a reserved 8GB file size, even though the file size itself is only 5GB. I did a trick that I will explain at the end of the review to gain that 3GB back. 12.1GB isn't a lot. Considering Microsoft Office is 3GB in itself before you install all the updates, you can be pressed for space.
Workaround: Micro SD. I bought a 64GB micro sd to put my music on. I had originally installed Office and Itunes to it as well, it worked fine but you could tell it was a bit sluggish. I will explain why next.
The Micro SD Reader: This is just my ignorance of not knowing how card readers worked. I had assumed that if it was onboard you could get the max speeds possible out of any card. This is not true. This card reader is limited to USB 2.0 speeds, so don't go spending a ton of money on a really fast micro sd. You will always be capped around 20-25 mb/s.
The processor and ram: The processor is plenty fast for this computer, and asus has tweaked windows 8 to only use 500mb of ram, so 1.5gb is a good amount of ram. I can run Chrome (with apps and extensions) with multiple tabs, itunes and office and hover around 1.5gb of ram in use.
The Battery: This is my only gripe. You do get excellent battery life on this laptop. However, it seems to be a common issue that the laptop is being shipped with around 10% battery wear. I have talked to a few others who own it and as you can see on some screenshots uploaded. Mine has went from 7% to 10% in a week, and I have only had 4-5 charge cycles (I charge at about 10-15% life). Definitely something to keep an eye on as times goes on.
The recovery partition: You can move this to a USB stick if you would like, I did this in hopes that it would delete the recovery partition. From what I can tell, there is no way to delete the recovery partition without using the command prompt. So When I created my recovery USB I booted from it to test to make sure it worked before I attempted to delete the partition. During the install it asks if you want to re-partition the drives, I chose yes. This took a bit but it gave me 20.1gb free and lowered the recovery partition to the 5gb it takes up.
Final notes: Nothing can be upgraded on this laptop, everything is soldered in as other reviewers have said. No fans make this thing noiseless. Don't expect to play 3D games on this, it's not built for that. Terraria runs at about 45 FPS.
The website says it comes with office 365, I can't confirm because I have my own personal office installed on it. There is no windows 8.1 key that I can tell, just a onedrive key in the box.
One final note: don't expect to get 12 hours of battery life unless you are just doing web browsing. Watching Twitch, Youtube, Or Netflix will run the processor at 90-100% constantly, which will obviously drain the battery a lot quicker. A lot of reviewers mention the two circular stabilizers on the back of the display damaging the desk. I can't say that I have this issue, i've opened it many times on my wooden desk and there are no marks to be found.
Also, not sure if it is a software or hardware issue, but the fn+f7 which is supposed to turn the display OFF, also stops any music that may be playing and essentially puts your computer to sleep. You can use a blank screensaver, or change closing the lid to do nothing to resolve this issue.
TLDR; Awesome laptop, has some small inconveniences. You can get it for $180-$200 and I think it is well worth the money if you just want a lightweight laptop to carry around and do work or browse the internet on.
EDIT: I just picked up the non signature version from staples for $100. Here are the differences:
Some bloat that can easily be uninstalled, free space on a fresh install is still 17.1GB
Recovery partition is still 8 GB, but actually 5.5GB (asus software probably)
A popup that asks you to register.
A couple Asus programs you can uninstall (cloud storage and update)
Brand Name Asus
Series X205TA
Item model number X205TA-DH01
Hardware Platform PC
Operating System Windows 8.1
Item Weight 2.2 pounds
Item Dimensions
L x W x H 7.60 x 11.30 x 0.70 inches
Color blue
Processor Brand Intel
Computer Memory Type DDR3 SDRAM
Flash Memory Size 32.0
Hard Drive Interface Solid State
Batteries: 1 Lithium ion batteries required. (included)
Screen Size 11.6 inches
Max Screen Resolution 1366*768 pixels
Processor 1.33 GHz Intel Atom
RAM 2 GB DDR3
Hard Drive 32 GB
Wireless Type 802.11 a/b/g/n
Number of USB 2.0 Ports 2
Average Battery Life (in hours) 12 hours
Check it out on Amazon: ASUS X205TA-DH01 11.6-inch Laptop (Dark Blue)