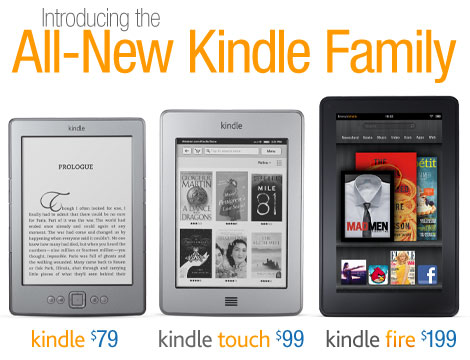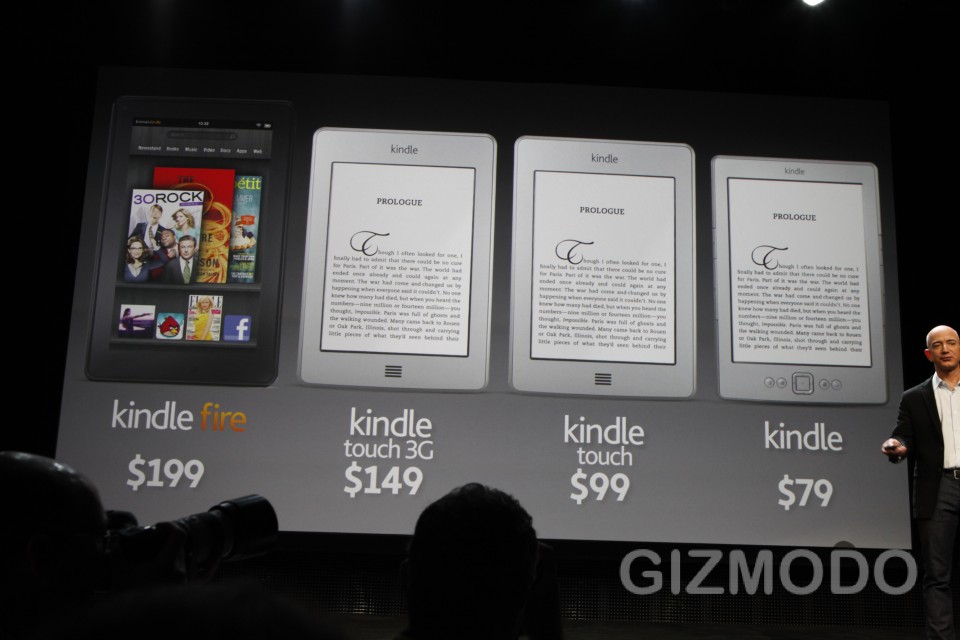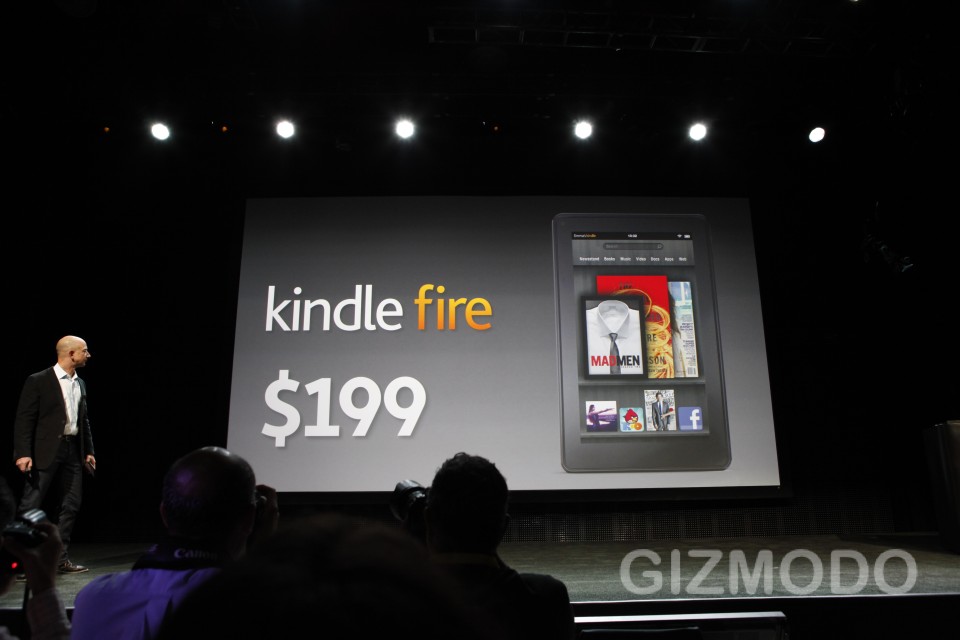 AVAILABLE FOR PRE-ORDER TODAY.
Amazon releases the Kindle Fire Tablet for $199, Kindle Touch 3G for $149, Kindle Touch for $99, and Kindle for $79
This Wednesday in New York City, Amazon unveiled their new 7inch  color tablet to be called the Kindle Fire, running on a dual-core 1.2GHz OMAP processor with a completely updated and revised version of Android 2.1 operating system. The design looks very similar to RIM's Blackberry Playbook tablet.
Magazine publishers such as Conde Nast, Hearst and Meredith have already signed up onboard, possibly in retaliation to Apple's draconian revenue policies.
The Amazon Kindle Fire (available for pre-order) is set to ship out November 15th and hit stores the second week of November (just in time for Christmas gifts this December 2011) for a very affordable price deal of  $199, with a month free of Amazon Prime. Its an extra $50 for access to an Amazon Prime account with tons of streaming (Amazon recently announced that they inked an exclusive deal with FOX for their tv shows via an announcement from Jeff Bezos Amazon CEO today). Amazon Prime accounts also includes free 2-day shipping for Amazon products.
I have big news for Amazon Prime members – we've just signed a deal with FOX to add a broad selection of movies and TV shows to our unlimited instant streaming service later this fall. The new additions from the FOX library include 24, Arrested Development, The X-Files, Ally McBeal, Buffy the Vampire Slayer, and – available on digital video for the first time – The Wonder Years. We now have deals with CBS, NBCUniversal, Sony, and Warner Bros, and adding FOX will bring the total to more than 11,000 movies and TV shows available for unlimited instant streaming. – Jeff Bezos, CEO of Amazon.com
But, Amazon Kindle Fire, watch out for NOOK Color 2 from Barnes and Noble coming out next month and the Apple Ipad 3 coming out next year.
The price tag for the Amazon Kindle Fire at $199 is without an embedded camera and microphone, though consumers will find WiFi (no 3G, sadly) and a 30-day trial of Amazon Prime. The great thing about this is the syncing – you can sync your books, music, and movies from across different devices! The Amazon Fire will use a browser called Amazon Silk browser that will dramatically reduce page loading times when viewing webpages on the internet, using the Amazon cloud as a limitless cache for your files.
Check out the Amazon.com Kindle Store
 for the latest updates. There will be a $79 Kindle coming soon as well.
Here are some exclusive pics/pictures from the Amazon announcement today in New York City of the $99 Kindle Touch with no 3G and $149 Kindle Touch with 3G and the $199 Kindle Fire tablet from CEO Jeff Bezos.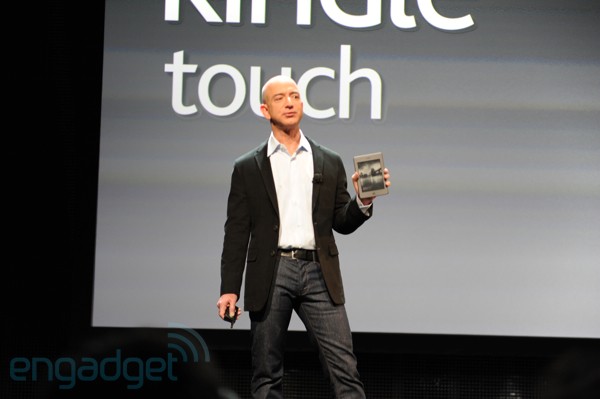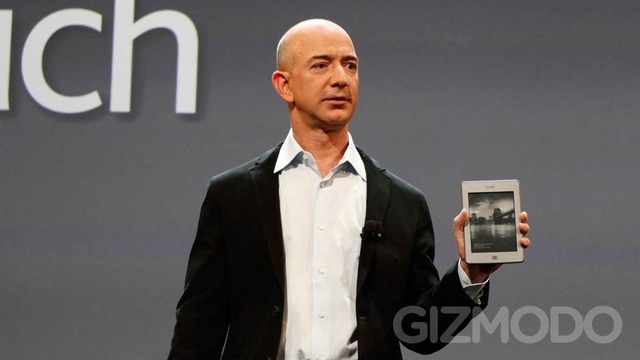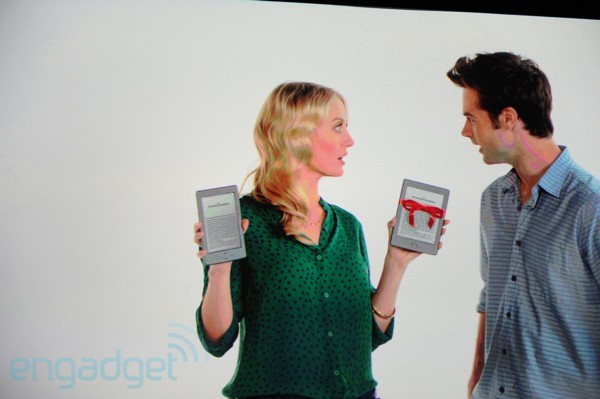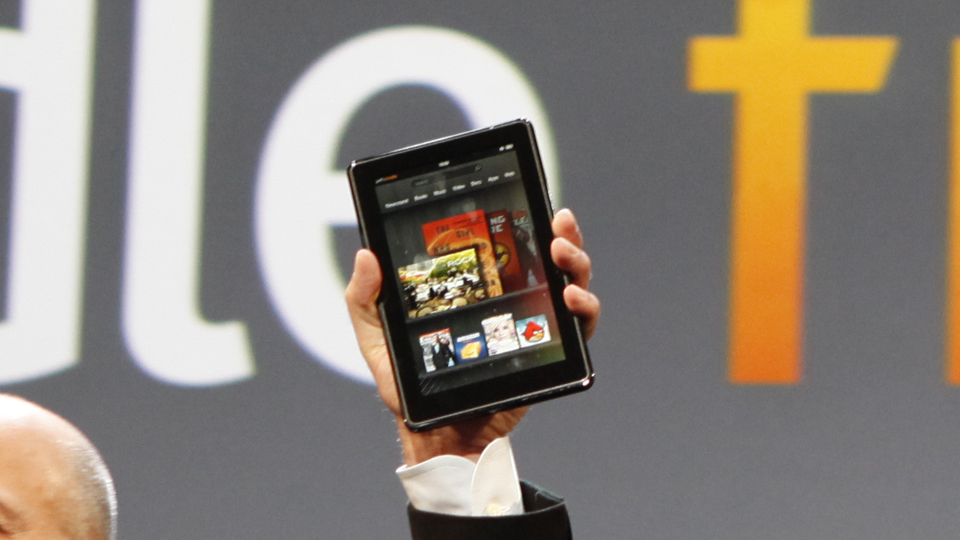 Letter from Amazon CEO Jeff Bezos
Dear Customer,

There are two types of companies: those that work hard to charge customers more, and those that work hard to charge customers less. Both approaches can work. We are firmly in the second camp.

We are excited to announce four new products: the all-new Kindle for only $79, two new touch Kindles – Kindle Touch and Kindle Touch 3G – for $99 and $149, and a new class of Kindle – Kindle Fire – a beautiful full color Kindle for movies, TV shows, music, books, magazines, apps, games, web browsing and more, for only $199.

These are high-end products – the best Kindles we've ever made. Kindle and Kindle Touch have the most-advanced E Ink display technology available, and the 3G Kindle Touch adds free 3G wireless – no monthly fees and no annual contracts. Kindle Fire brings everything we've been working on at Amazon for 15 years together into a single, fully-integrated experience for customers – instant access to Amazon's massive selection of digital content, a vibrant color IPS touchscreen with extra-wide viewing angle, a 14.6 ounce design that's easy to hold with one hand, a state-of-the-art dual core processor, free storage in the Amazon Cloud, and an ultra-fast mobile browser – Amazon Silk – available exclusively on Kindle Fire.

We are building premium products and offering them at non-premium prices.

Thank you for being a customer,

Jeff Bezos
Founder & CEO
p.s. – Kindle Fire has a radical new web browser called Amazon Silk. When you use Silk – without thinking about it or doing anything explicit – you're calling on the raw computational horsepower of Amazon EC2 to accelerate your web browsing. If you're curious, watch this short video to learn more about how it works.