For Parents / Non-techies:

The Amazon Kindle Fire wins for this demographic. The ease of use, multimedia features like the Amazon Instant Video, Kindle bookstore, and Android App store is sufficient for your non-technological advanced family and friends.
For techies and computer literate:

The Apple iPad 2 wins. The many productivity and business apps in the Apple Appstore, the larger screen, and features are all what makes the iPad 2 beat out the Amazon Kindle Fire in this demographic.
For those on a budget:

For those who are looking for a cheaper tablet, the $199 price point for the Amazon Kindle Fire is the selling point. Although it doesn't have a camera, the features more than make up for what it lacks. It is a great multimedia tablet and the Silk browser makes it extremely fast.
Amazon Kindle Fire Features:
The Amazon Kindle Fire has new apps including Facebook, Hulu Plus, Netflix, Pandora, and ESPN and many more from the Amazon Android Appstore. There will also be games from Zynga, EA, Gameloft, PopCap and Rovi (ANGRY BIRDS!)
Kindle owners who are also Amazon Prime Members can also borrow books for free from the Amazon Prime Kindle Lending Library. Like with books purchased from the Amazon store, the Lending Library can be accessed directly from the Amazon Kindle Fire itself, though, only the Kindle reader. The free library is not available to those using the Kindle apps on other devices, or a PC. Only a single book can be borrowed at one time, limited to just one new title every month. But any bookmarks, highlights or notes created while a book was on loan will be preserved after the book is returned, so users will still have access to them if they choose to borrow it again. There are over 5,000 titles that are available from Amazon's Lending Library, including more than 100 current and former books from the New York Times Bestsellers' list. As long as you live in the US that is, since at launch the service is not available internationally.
Additionally, there are hundreds of videos available for Amazon Prime members that Amazon Kindle Fire owners can stream using the tablet.
SPECIFICATIONS BREAKDOWN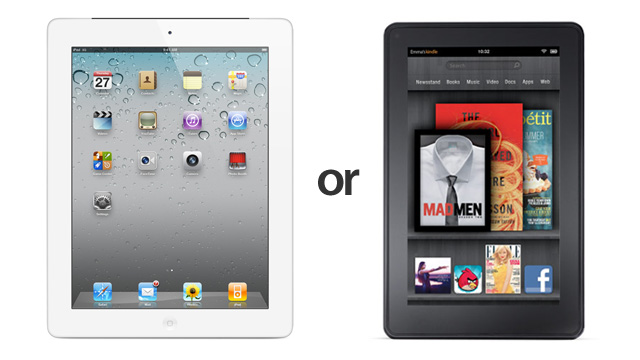 Amazon Kindle Fire Vs. Apple Ipad 2.0
Tablet

Price

$199

$300 less than iPad 2

$499

Screen

7", in-plane switching display

9.7″, in-plane

switching display

Pixel Density

169 ppi & more than 16 million colors

28% higher pixel density than iPad 2

132 ppi & more than

16 million colors

Weight

14.6 oz

iPad 2 is 46% heavier

21.28 oz

Content

Movies, shows, songs, games, apps,
magazines & books from Amazon

Movies, shows, songs,

games, apps,
magazines & books

from iTunes

Breadth of
Ecosystem

Most Amazon content can be enjoyed
on your Kindle Fire and many other
devices, including iPhone, iPad,
Android, BlackBerry, Windows 7
phones, internet-ready TVs, Roku,
TiVo, and through your web browser

Most Apple content

can only be
used on select

Apple products

Buy Once, Enjoy
Everywhere

With Whispersync, your book library,
last page read, notes, and highlights
sync across your devices and you can
stream a movie on one device and finish 
it on your TV, without losing your place

iBooks syncs

only on Apple
devices – no sync

for movies

E-mail

Yes

Yes

Web Browser

Amazon Silk, the cloud-accelerated
web browser

Safari

Flash Support

Yes

No

Processor

1GHz dual core

1GHz dual core

Storage

8GB flash memory + free cloud storage 
for all your Amazon content so you
never run out of space

16GB flash memory

+ free cloud storage 
for iTunes content

excluding movies

Battery Life

Up to 7.5 hours of video playback, 
with wireless off

Up to 10 hours

of mixed use

Multitasking

Yes

Yes

Wireless
Capability

Wi-Fi

Wi-Fi

Speakers

Stereo

Mono

Prime Instant
Video

Amazon Prime members can instantly
stream nearly 13,000 popular movies &
TV shows at no additional cost

N/A

Kindle Owners'
Lending Library

Amazon Prime members can borrow 
from thousands of popular books 
at no additional cost

N/A
Get the Amazon Kindle Fire Today
REVIEWS
"The  Kindle Fire gives me the features I want at a price point that's less than half of the iPad 2. I can check my email, browse the Internet, maybe play a few games, most importantly, I can read magazines in color on a Kindle." – Gizmodo
"At $199 the  Kindle Fire is less than half the price of the Apple iPad, which starts at $499.
It is the first tablet from a major company to seriously undercut the iPad in price." – New York Times
"Consumers will see the iPad and  Kindle Fire side-by-side… and simply ask 'why does
the iPad cost at least $300 more?' They will look at the features – the comparable
amount of content, the Kindle's million e-books, streaming TV shows – and pick the Fire." – Extreme Tech
"The  Kindle Fire is the tablet you need at the price you'll be willing to pay." – Technology Review
"Amazon's  Kindle Fire is likely to be the first successful tablet not sold by Apple, and there
are several good reasons for it: the low price of $199, the convenient, portable size of 7 inches,
and a rich catalog of books, movies and music offered through Amazon's Web-based services." – Ars Technica
"The  Kindle Fire is the real deal and it's going to disrupt the equilibrium of the existing market for media devices." – Chicago Sun Times
"There's a new mayor in Droidville. But this guy didn't roll into town with pomp and circumstance.
He strolled down Main Street and simply offered more than any other candidate, extolling a plan
based on down-to-earth sensibility and affordability. Meet the Kindle Fire." – Seeking Alpha
Get the Amazon Kindle Fire Today